In this post, I'll teach you how to create a cash cow business.
"Wait, what's a cash cow?"
It's a successful business venture that prints off cash for you. This is something every entrepreneur wants to attain, but very few know how.
"Ya, but doesn't that take years of working on a business?"
No.  Not if done correctly.
"Okay, I want to create a cash cow. So, how do I do that?"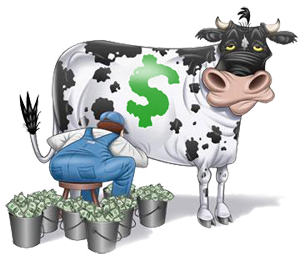 That's the end goal for most entrepreneurs. They want to make X amount of money per month, and have it operate relatively passively.
The problem is they have no idea where to start. Or, just as bad—they incorrectly assume they know what they're doing and spend all their time working on the wrong things.
They assume there is some insanely difficult formula needed to to create a cash cow business. So, they run around working on anything and everything related to their idea, falsely believing they are making great progress just because they're busy all the time.
People make it more complex than it has to be.
There are only two things you need to create a cash cow.
Step 1: How can you create something of value in a market better than what's out there?
Step 2: When you do that, how can you reach your potential audience?
"Two steps?  It can't be that easy"
Yes, it can be. And it is.
Don't make it harder than it has to be. You are wasting your time if you don't have these two things— you don't have a business worth launching.
People are focusing on all the wrong things.
They make a plan based on "what" they want to do, and not "why" they're doing it.
You need to understand the "why" behind the "what". A lot of people see someone doing something successfully and they attempt to do the same thing because they want to be successful too. They don't even understand why it was successful, they focus on "what" the person is doing that's successful.
They hear of a successful entrepreneur who sold shoelaces and made millions. They think, "ohhh, great idea I will sell shoelaces!"
Selling shoelaces has nothing to do with why the person who made millions at it was successful.
The aspiring entrepreneur needs to understand why they got the results they did. Many people think they can just copy the same idea and have success. But they don't look at the "why" behind the business' success. The "why" is going to heavily focus on those 2 steps I mentioned.
"Why did people want to buy those shoelaces so much more than their competitors?"
"Why did that business get all that traffic, but not their competitor?"
"What did they do differently to get their shoelaces in front of so many people?"
"They're both offering a similar product, why is this one making 10 times as much"
These are questions copycat entrepreneurs forget to ask. They just see someone making a lot of money at something and attempt to replicate it. They assume they'll just magically replicate their success as well.
That's not how it works.
A successful entrepreneur will be able to look into the business that made millions in the shoelace market, and find out how they differentiated themselves to create success in that market, and how they could implement the same ideas in a completely different market and achieve success.
Important: Solve step 1 before you solve step 2. There is no point is knowing how to reach a market if you don't have something worth reaching them with. Focus all of your efforts on solving step 1 first.
A lot of times Step 1 and 2 will go hand in hand. If your product or service is extremely valuable to people, you'll get a lot of word of mouth marketing.
If it's similar to what's already on the market with no additional value, you have a 0% chance of getting great word of mouth marketing, because you just have a random product you're trying to sell.
Copycat entrepreneurs who create 'me too' businesses don't understand this, and are always perplexed as to why their bank account isn't filling up. It's because they're not offering anything of value above the person who's already doing it. Why would anyone want to talk about that business? They wouldn't. What would there be for people to talk about?
Step 1 can help solve step 2 for you, but step 2 cannot help solve step 1. When people get great value, they want to talk about it.  This will substantially compound your marketing efforts.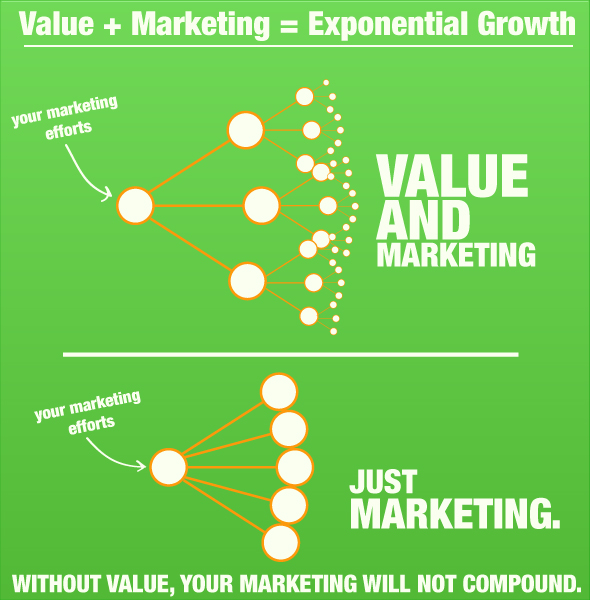 Even some extremely well funded startups drop the ball here. Some spend millions of dollars trying to achieve #2, when they haven't figured out #1 yet. These companies go out of business.  It's too easy to predict failure with some of them— I'm often baffled when I hear of a company that hasn't figured out step 1 yet getting huge amounts of start up capital.
A year later:
"We're going to raise another round because we haven't gained traction yet"
You're not bleeding money because of "traction", you're bleeding money because you haven't figured out step 1. Throwing a bunch more money at it doesn't solve step 1.
"We were the 4th best business in the space, I have no idea why we failed!"
Why would someone sign up to anything that's the 4th best? If there's nothing unique about their product/service that adds more value than what the competitors are offering, you're destined for failure. You never solved step 1.
Many people are going into a certain market because of the size and potential of the market. If a market is huge, with growing potential, of course it's a good spot to be in. However, that shouldn't be the decider of what market you choose. The value you can bring to that market should be.
"Ya, but the market is so big, even if we only got 1% of the market we'd be huge. That's like 10,000 sales. We could make millions!"
When pressed on why people would buy from them:
"Well, even if we didn't get that many— just 1,000 sales would be great money for me."
Who cares what it would do for you.
This type of thought process is rampant among aspiring entrepreneurs. They think backwards. You can't go into a business thinking about what it's going to do for you. First you need to figure out what it's going to do for your potential customers. If after your due diligence you decide the demand will be there for what you have in mind, then you can figure out how you're going to make those sales. Then you can start having fun calculating the potential profits your business venture could make.
Everything else is Noise
A lot of people are constantly asking "noise" questions instead of questions that will help them become a better entrepreneur.
Example: "How can I convince people to buy this?"
If you have to trick people into thinking they should buy your product you don't have a product that they should be buying.
Most people spend all their time convincing people they need to buy their shit, rather than creating something no one would need convincing to buy.
Designing pages they think will convert
Building an email list
Copywriting
Spamming social media
…
If you don't have step 1 and 2 completed, you shouldn't be wasting time on noise. Go back to the drawing board until 1 and 2 are completed.
"But what about this awesome landing page I worked all week on?"
Scrap that shit and stay off warrior forum.
Build real shit.
I'm not saying it's bad to learn how to build an email list, or write copy, etc… It's not.
However, these are things that you work on AFTER you've solved the 2 steps. They help improve your cash cow, they don't make it.
Many people launch their "businesses" without these two steps solved—usually with neither solved— and spend all their time trying to force their products/services on people. What they should be doing is going back to the drawing board and starting over until they have something with those 2 steps figured out.
That's why blogs suck. The blogging industry is built on noise tactics. Bloggers wonder why they and their audience never become successful. It's because they never solve steps 1 and 2.
"Today I'm going to teach you 7 ways to get better at (insert random noise tactic)"-standard blogger
Wow, can't wait. More irrelevant content.
The shit is irrelevant unless you solve the 2 steps.
Their audience is looking for food, and they're spending all their time telling them how they could theoretically use a fork and knife. Problem is, their plate is empty. No matter how great they become with their utensils, it won't matter.  They're still going to starve.
Is your product more valuable than anything else in the space? Have you figured out how you'll reach your market? Two simple questions. If you can't answer "yes" to both of them, you don't have something worth pursuing yet.
Solve them first—don't work upside down.
"Okay, but how do I figure out these two things? That seems hard"
It's not. I'll take you through it.
Due Diligence
Most people are NOT doing due diligence. Some are doing what they think is due diligence, but it's usually just an extremely weak attempt at it.
This sets up a very low success rate on attempted business ventures. People who have success often do a RIDICULOUS amount of due diligence.
A newbie's version of due diligence: posting on an internet forum asking people if they should try their idea out.
A successful entrepreneur's version of due diligence: reviewing all their potential competition, and talking to anyone and everyone in the space to learn all they can.  This gives them the information they need to know if they can solve steps 1 and 2 in that niche.
Don't just ask a couple people if you should do it. Really dig in and find out what you need to know that will get you to a "yes" for your questions, so you know that it'll be worth your time. If you information that leads you to a "no", that's good too. This is NOT a bad thing. Finding out that you can't solve steps 1 and 2 for a certain market is a great thing. You might save months, or even years of your time because you spent time on the due diligence that someone else would have skipped, wasting a chunk of their life grinding away on something that there wasn't a big enough need for.
When I'm looking into something, I'll read every article/post I can find that I think is relevant. I'll reach out to as many people who seem to know what they're doing in that niche as possible. I'll know my potential competition in and out. I'll figure out exactly what my costs will be, along with some napkin math on how much potential profit I think there is to be had.
The difference is I know what I'm looking for. Others will read the same articles, and think— "wow this industry seems like it's booming, I should jump in". I'm just looking to solve my 2 questions. That's it.
Others don't know what they're trying to solve, so even if they do what they think is due diligence, they aren't answering the right questions for themselves. So, it ends up being pretty pointless.
"Ya but this market is going to be HUGE in the next few years. it's expected to grow over 20% a year for the next 5 years!"
Even if it grows 10,000% in the next few years, if you haven't solved steps 1 and 2, you have NOTHING.
You need to do the type of due diligence that answers your 2 questions.
Maybe you answer "yes" to both questions, but you find out from your due diligence that you won't make quite the money you'd like to earn even if it's successful. Perfect. On to the next opportunity. Proper due diligence saved you a lot of time.
Time is money. Use it wisely.
Answer the right questions, and move on.
A side benefit to doing good due diligence—sometimes you find an even better opportunity in the space because of the information your due diligence uncovers.
I've talked to a number of people about a new business I'm working on, and have found multiple opportunities in the space I wouldn't have known about otherwise. Unless you're 'in the game', or at least talking to those who are, you'll never discover most of the opportunities. Read. Talk to people. Ask questions. Good things will happen.
I think many aspiring entrepreneurs don't hear much about due diligence. Part of the reason is, people never talk about opportunities that never happened. When someone starts a company and people see them doing well they think, "man, they're lucky." If you look into a lot of opportunities, most may not end up being worth pursuing. However, if you didn't look into them, you'll miss the one where you'd get "lucky".
Successful entrepreneurs who seem to have success after success aren't getting lucky. They're passing up the ones that would have failed with proper due diligence.
I do due diligence on the front end. Most aspiring entrepreneurs tend to do it on the back end, once they launch. Clearly not a very efficient use of time.  I can spend a little time on the front end, and quickly decide whether or not I can solve my 2 steps. Others spend a bunch of time launching something and they don't have what the market needs/wants.  They waste crazy amounts of time going through all sorts of useless steps— launching the business, spending futile time attempting to market their shit that no one wants, etc… They consider THAT their due diligence. In the time it takes them, I could have done due diligence on 100 ideas. They've done it on one.
They murdered their most precious asset—time, by not doing it on the front end.
"Ya, but what about a MVP—Minimum Viable Product?"
MVP is heavily marketed/overhyped right now. There are many instances where you would definitely NOT want to launch a minimum viable product. Don't just do things because a few books say to, and then blindly follow the advice as everyone hypes it. I will cover this more in a future post, but think about WHY you're doing something. Many times, MVP is definitely NOT what you want to be doing. Most of the businesses I look into I would NOT launch with a minimum viable product.
Do Something You Enjoy
No, I don't mean find your passion and do that. If your passion solves #1 and 2 and it can make you the amount of money you want to make, that's awesome, go for it. However, leading with passion is often why most newbie entrepreneurs fail.
"But my favorite blogger said all I had to do was follow my passion and the money would follow!"
Your favorite blogger is probably broke.
When I say do something you enjoy, I mean just that- you need to enjoy it. I don't mean follow your passion without being able to solve steps 1 and 2. Maybe you are a weird dude and your passion is counting dust. There's not going to be a great business opportunity in that space.
You could even consider this a third step—is there enough money in the niche to make you satisfied? Most of the time you won't really know how much income potential there is until you've completed your due diligence phase. However, keep this in mind—this may just give you a tiny glimpse of the true potential in the niche.
Many people give up way too early. I have a friend who stresses this all the time. He's had multiple projects that have grown into pretty substantial businesses. Both looked like extremely tiny niches when he first got in. However, the deeper he got in the niche, the more and more opportunity he realized there was. He would have never seen them if he wasn't 'in the game.' The further into the game you get, the more you'll find out about opportunities that people outside of the game will never have access to.  He enjoyed working on these businesses and went in with conservative goals based on his due diligence.  Because he enjoyed working on them, he went way further than most others would have with them.  If he didn't enjoy them, he would have given up on them before they hit a tipping point.
Use your due diligence to set conservative income goals based on what the potential looks like.  If this number gets you interested enough to continue, just know there's a good chance the potential could be higher than you realize.
Let's sum it up:
Follow the 2 steps.
If you can answer "yes" to both, do you have something you think you'll enjoy, and can make an amount of money that may be interesting to you?
Cool. Jump in.
"Ya, but there's so many competitors what if I fail?"
What if you don't?
That's the whole purpose of completing those 2 steps. If you're answering them honestly with yourself, and have put in the work on the front end with due diligence that needed to be done, what you're creating should be superior in one way or another to what's out there.  When you combine that with your marketing strategy you figured out in step 2, you will achieve success.
If you fail, you probably didn't answer the questions correctly when you started.
If you don't fail, you change your life.
Easy enough?
Now go create a cash cow.